This article is about the character Oscar. You may be looking for the manga chapter with the same name.

Oscar Orcus (オスカー・オルクス, Osukā Orukusu?) is a character who appears both in the main "Arifureta: From Commonplace to World's Strongest" series as a minor character, and in the spin-off "Arifureta Zero" series as one of the main protagonists.
He is an Atavist, with the ability to use one of the Ancient Magic from the "Age of God". He is also the creator and caretaker of the Great Orcus Labyrinth. He is also one of the leaders of the "Liberators". He was a companion, but at the same time an enemy of one of the other leaders of the Liberators, Vandre Schnee.
Appearance
Oscar is young man who has gentle feminine features and a long, slender build.
He wears black-rimmed glasses and has shoulder-length black hair tied up in a ponytail.
Personality
Oscar has a gentlemanly personality and demeanor. He is highly capable of taking care of others due to spending his childhood at an orphanage and helping to look after the younger children. As a result, he has become very adept at various household chores, such as cooking and cleaning. He also cares greatly about his family and will go to great lengths in order to protect them. He is very easily enraged when someone in his family is injured or exposed to danger.
Initially, Oscar tries not to stand out too much and avoids confrontation whenever possible. He is afraid that doing so will get him noticed by the Holy Church for his incredible abilities and be forced to serve them for the rest of his life. That all changes, however, after his family was put in danger due to his inability to stand up for himself. Afterwards, Oscar is no longer afraid to fight in order to keep those close to him safe.
Oscar is very intelligent, as well as inquisitive. He enjoys learning about various things and to discuss them in great length with anyone who shares a mutual interest in them.
While in battle, Oscar is a highly capable strategist, whether it is coming up with a well thought-out plan before entering a fight, or having to immediately improvise a new fighting strategy.
Oscar believes that true beauty lies in its simplicity and is unimpressed with anything that may appear too flashy.
Despite possessing the common Job of a "Synergist", Oscar views it as giving him the opportunity to create things will be remembered throughout history.[1]
Beneath his gentle and caring persona, Oscar has his share of bad qualities. He is quick to lose his temper at times (especially around Miledi Reisen), and is prone to get into arguments. In addition, the way in which he uses his weapons when fighting certain enemies is considered to be cruel and even a little sadistic by some of his comrades (such as stripping them of their clothes and blinding them).
Oscar has a huge fetish for maids. He considers himself a connoisseur of them and is extremely critical when judging their outfits.
Oscar is very proud about his artifacts and will often go off on a tangent whenever he discusses them. He will also give them various features that are useless, as well as being dangerous on multiple occasions. He is especially proud of his glasses and will boast about them at any chance he gets. Even so, he gets upset when people (specifically Miledi) considers his glasses to be his only defining trait.
Powers & Abilities
Skills
Quotes
Trivia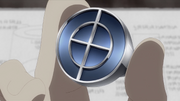 References